SONOS Sound Systems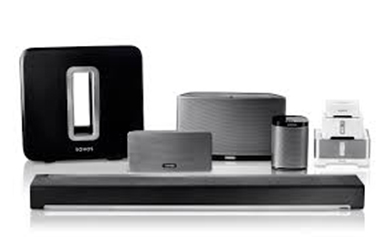 SONOS Playbar, Play 1, Play 3, Play 5, Connect, Connect Amp, Subwoofer
Often imitated, but still not duplicated, SONOS continues to be the revered market leader in wireless music for your home.
SONOS may not have developed the wireless speaker, but they have single-handedly created a product category that never existing.
With smart products such as their self-contained wireless speakers, soundbars and subwoofers to their music players and amps that work with traditional amps and speakers and of course, without a doubt, the best user interface for music playback; SONOS is light-years ahead of the rest of the "establishment" electronics makers.
If you're looking to move into the new millennium of music playback and are not sure what to do, you can't go wrong with a SONOS system.
With Stereo Types as your SONOS integrator, not only can you have the convenience of SONOS but also have it installed professionally to blend seamlessly into your home or business.
To schedule your private audition, installation or needs assessment with one of our system consultants, fill out the form on this page or give us a call at one of the numbers below today!
[contact-form-7 404 "Not Found"]