Like it or not, profits drive business today. In this world of increased competition and tight margins, even the smallest of businesses need a competitive advantage.
Stereo Types will improve your competitive edge by helping you increase productivity, minimize required resources, and cut net operations cost through the use of powerful yet simple to operate technology.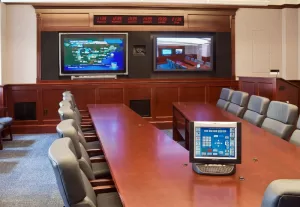 Audio and Video Solutions
Gone are the days when you need to huddle around a laptop squinting to see what's on the screen. Today's offices require high quality audio-video systems, enabling everyone to easily hear, see, and collaborate.
When it's time to get down to business in your Richmond office, think ahead by contacting Stereo Types, your local Crestron dealer, to design & deploy your hi-definition projectors and TVs, audio visual systems, and wide-bandwidth networks with true plug and play capability that meets your needs and budget. Add lighting and shading control to create the ideal meeting environment every time.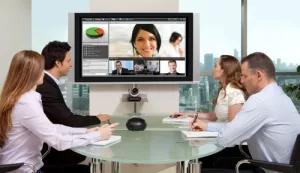 Conferencing and Collaboration
While worldwide travel is expensive, the reality is to get serious business done, a phone call or e-mail simply isn't enough.  That said; while on the surface they may seem expensive; a high-quality HD-video conference system combined with "smart" white boards can be just the tool your teams need to accomplish the same positive outcome at a fraction of the travel costs associated with even a single trip.
Maintaining a functional workspace mandates that presentations / collaborations be easy-to-use and work flawlessly. Stereo Types are experts in understanding what needs to be shared and how best to share it.
Contact our team now to learn more about how we can help bring your organization into this century and keep you ahead of the technology curve. with a Stereo Types Audio-Video system for your offices and board rooms.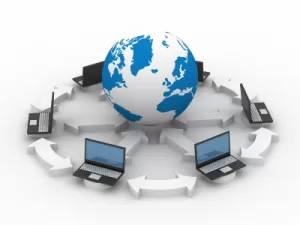 In small business, most of us don't have the luxury (I.e.: capitol) to have our own IT department. Instead, when we set up our networks or have a problem, we either find the closest millennial in the office or we pull off our CEO hat and put on our Network Administrator hat…
…Unplug this, reboot that, and of course… the 2-hour phone call to an offshore help desk with "Mike"…
All of today's technology: mobile devices, cloud-based apps, IP Phones, video conferencing, etc., they all require a network. What most of us without an IT department don't realize is the stuff your internet service provider installs or local office supply store sells is not designed to support any of these technologies but rather designed for yesteryears' residential installation.
Though difficult to quantify the productivity and sales lost dealing with a poor network, we can tell you… it's huge.
For many businesses, 1 lost phone call could pay for that seemingly "expensive" business-class computer network they opted not to get.
With our world-class solutions and available 24/7 network monitoring, Stereo Types delivers the kind of technology reliability your company should expect.