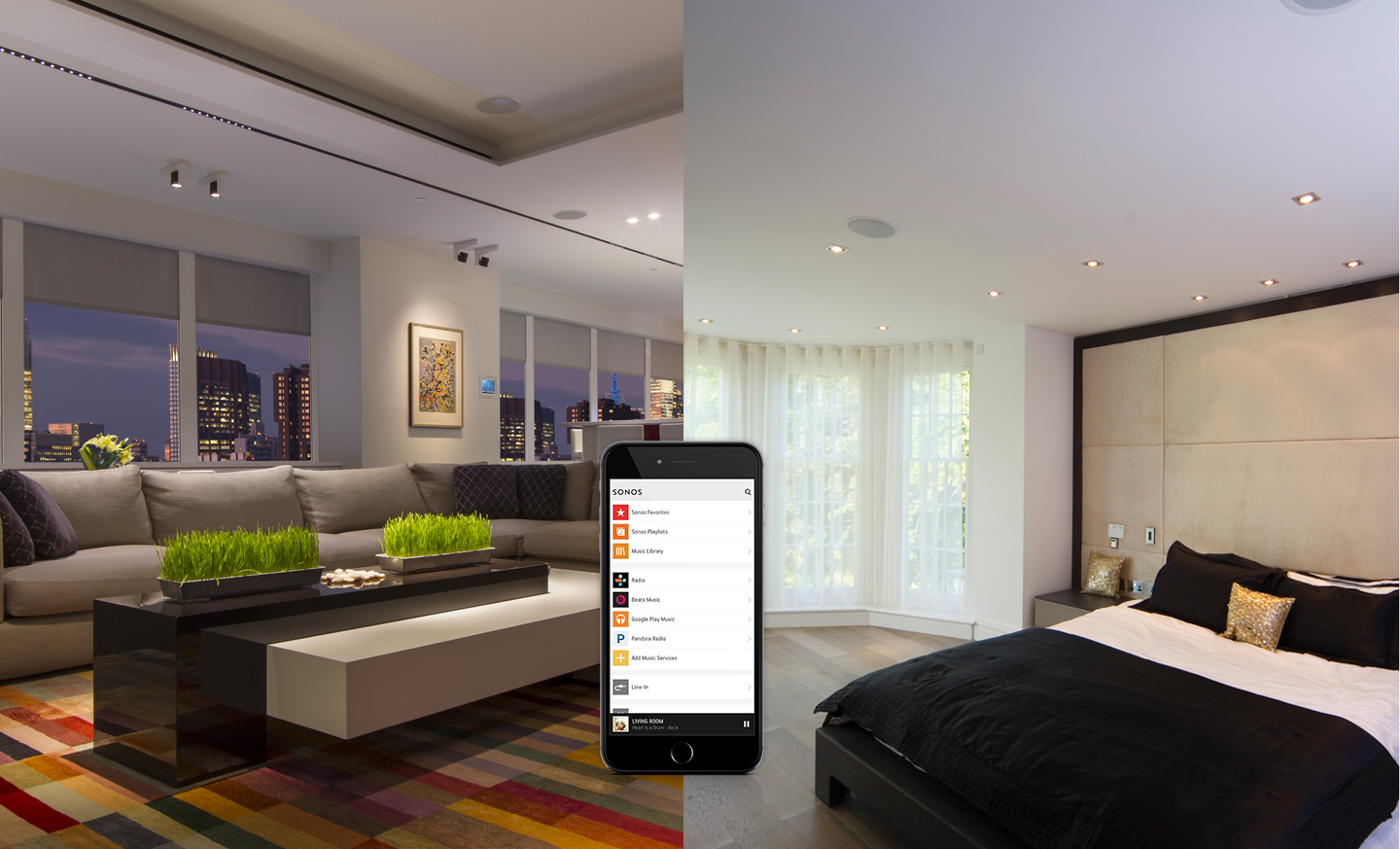 Enhance Your Home with Quality Music
Whole house music systems are very different than the typical 2-channel set of speakers you might place in a listening room. If you are looking for a solution that lets you play music in every bedroom, and even outside on the patio, then look no further. Home automation will not only expand your music choices, but it will also help you save space and entertain friends more easily. Keep reading this blog to learn more.
1. You can play the same song in every room flawlessly.
The main benefit of a whole house music system is that you'll be able to play music throughout all of your spaces seamlessly. When we install speakers, we meticulously pick certain locations so that the sound is even. That way when you come home after a long day at work, you can press play and walk from the living room to the bedroom without missing a beat. Whole house music is also great for entertaining friends and family. If you are having a party, your guests can move inside and outside the house and hear the music perfectly no matter where they go. An integrated system is the only way to connect all of your speakers in every room—otherwise you'll have separate systems in each location.
2. You can play different songs in every space without disturbing neighbors.
Not only can you play the same soundtrack on all of your speakers with whole house music, but you can also play different tunes in each room too. If you have kids, each one can pick their favorite songs and play them as they are getting ready in the morning. Or if mom is cooking in the kitchen, she can listen to the radio while she prepares dinner. Each family member gets to choose their preferred radio station or music selection to enjoy in his or her own area. If you choose to install outdoor audio, we'll make sure your neighbors won't be disturbed by the music.
3. You can expand your music library by using multiple streaming sources.
One of the perks of having a professional music system is expanding your music selection. You can easily access your own personal libraries on iTunes or Amazon Music, and also choose from songs on streaming services like Spotify, Pandora, and Tidal.
4. You can control your music using different devices.
Technology should never be too complicated to use. Our controls are simple enough to navigate so that you don't have to take extra time to figure out how to play a certain album or radio station. You will be able to access all of your music sources and every location in your home with a mobile device—like a smartphone or tablet—a touch screen or smart remote. Based on your personal preferences, we'll set up a control system that meets all of your needs.
5. You can save space and reduce clutter.
No one likes seeing wires all over the house, and if you have speakers in every room that takes up valuable space that could be used for special décor you own or furniture. We can conceal the speakers by installing them inside the walls so that they are out of the way and free up more space for your family to move around. Your guests will focus on the music and not the device since they will be able to barely see the speakers. The grills can even be painted any color you like to match your home's color scheme.
To add these benefits and more to your home in Ft. Myers, FL; Richmond, VA; Charlottesville, VA; Naples, FL; Miami, FL, contact us online.