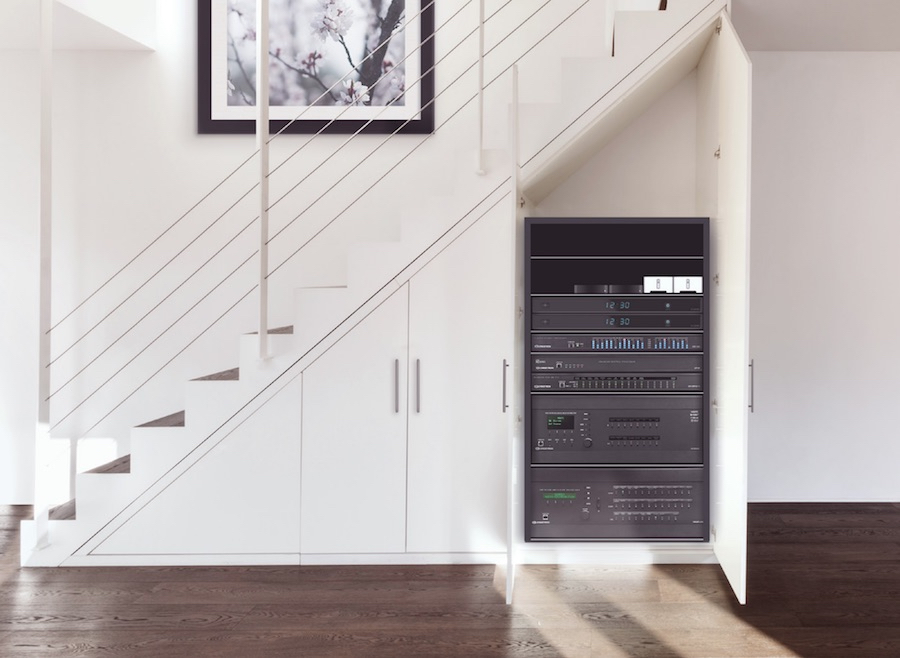 Take Command of All Your Media from Anywhere in Your Home
Does your New York City apartment or townhouse sport a minimalist vibe? Are you the kind of person that appreciates form and function equally? Do you enjoy high-performance audio and video entertainment in your home?
If the above questions apply to you, then you might want to know more about AV distribution for your NYC residence. AV distribution systems enable you to access all your favorite audio and video entertainment in every room of the house – and outdoors – with effortless control and no equipment clutter.
Intrigued? Keep reading to see how to simplify your AV entertainment setup.
SEE ALSO: Top 5 Benefits of Whole House Audio Systems
Declutter Your Space
Audio and video equipment can add to room clutter. Amplifiers, speakers, music players, streaming devices, and multiple remote controls all contribute to complexity in your AV setup. The equipment is often hard to hide, and so is the cabling. AV distribution can remove the clutter by transferring all the equipment to a cabinet or unused closet space, where resources are then shared to individual rooms. Using architectural speakers that don't take up floor or shelf space, the only thing that needs to be visible is the TV. And you can hide those too with automated hidden technology solutions.
Watch or Listen to Anything Anywhere
AV distribution lets you access all your media in any space through a single, intuitive, consistent interface. No more fumbling with multiple remotes, changing inputs, and three different ways to control volume and find content. One remote or touchscreen lets you focus on finding what you want and getting it where you want it. Want to put the news on three different TVs across the house? Done with one remote. Want to listen to music in the kitchen and dining area only? Easy. Want to finish a movie from the media room in the bedroom? Pick it up where you left off as you climb into bed.
No Skimping on Audio and Video Quality
Video distribution lets you enjoy your media in the highest quality available. You can have 4K video streams on every TV or display, right up to 4K 60hz quality. If you're an audiophile, you'll be please to know that you can have lossless quality, high-resolution music in every room. If you're a stickler for AV quality, you'll know that you have consistency for your media quality across your entire house.
Centralized Equipment for Easy Maintenance and Upgrades
By centralizing your AV setup in a neatly organized rack mount hidden away, you solve the problem of both consistency and maintaining or upgrading your setup. Get more power with a higher current amplifier, or upgrade to higher resolution video like 8K sources when that is available. A well-designed equipment rack and closet also offers proper power, protection, and ventilation to extend the life of expensive electronics.
StereoTypes can show you all the benefits of an AV distribution system for your New York City residence. We serve the East Coast from New York to Florida with the best in AV solutions. Call us today at (888) 217-9488, reach out via our contact page, or talk to a customer service agent using the chatbox on this page. We look forward to working with you.