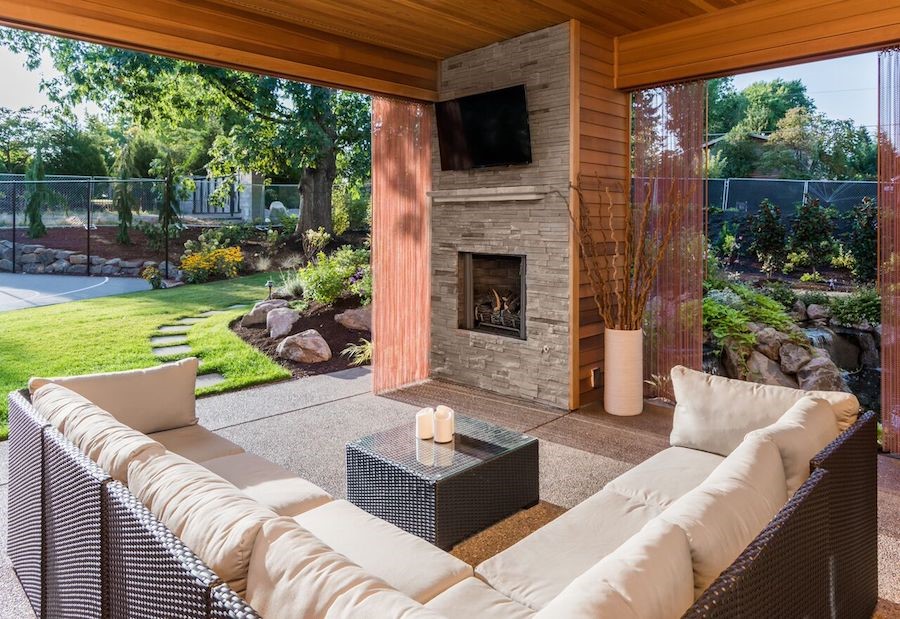 Exploring the Possibilities of Outdoor Home Theater
When you think of a media room, what comes to mind? Is it an indoor space in an isolated part of your home? A design option that many people don't realize is possible is an outdoor home theater. Experience the luxury of a custom media room that you can enjoy outdoors on your Naples, FL property.
In this blog, we will look at all you can incorporate into an outdoor media room to make it feel truly personal.
See Also: Take the Sound Outside with Outdoor Speakers
Projector & Screen
A good place to start a conversation about home theater is with the essential equipment: the projector and screen that make the viewing possible. Many of our partner brands design these for outdoor use, making them weatherproof so that they're not damaged by the elements like rain, dust or heat.
You'll want to use a projector that is compatible with the space and size of your outdoor media room so that it projects far enough out and with a clear image that won't be distorted by natural light.
If you're using a TV screen rather than a projector and accompanying screen, you'll want to consider a few things. The ideal outdoor TV will have anti-glare technology and provide high-contrast images so that you get great picture-quality even when the sun is out.
Lighting
Chances are you'll be using your outdoor home theater at night more often than during the day. This means that you'll need to prepare your space with the proper lighting.
You'll want enough lighting to navigate the area at night, especially if the screen isn't on. Meanwhile, you'll also want to be able to dim or turn off those lights when the movie is on to create the desired cinema effect.
Arrange some landscape lighting to guide the way around your property and cast a soft glow over the area. In fact, you can program the lights to turn on once the sun sets so you don't have to worry about manually turning them on as you notice it getting darker outside.
Better yet, you don't even have to migrate indoors. With the right lighting, you can keep your focus on the screen.
Furnishings
Décor is just as important in your theater design as the technology that makes it work.
Your selected furnishings customize the space to look exactly how you want it to. We work with several interior design brands that carry products you could easily incorporate into your outdoor space.
You can select from various home theater seating designs if your space allows for it or stick with the outdoor feel and use furniture designed for outdoor use. Incorporate decorative elements, tables, and blankets to create the aesthetic you want.
Outdoor Audio
Many brands offer weather-proof speakers designed to withstand the elements. Arrange these where you see fit to ensure quality sound without the worry of whether they'll be damaged by the weather.
Another approach to outdoor audio is hidden audio technology. Install in-wall or in-ceiling speakers to keep them hidden from sight and not exposed to the weather if the area is covered or enclosed.
Hidden speakers operate not only as a functional piece of your outdoor home theater but also a design element in that they free up valuable space and don't risk clashing with the rest of the space.
Ready to get started on your outdoor media room? Reach out to us online or give us a call at (239) 438-4500.