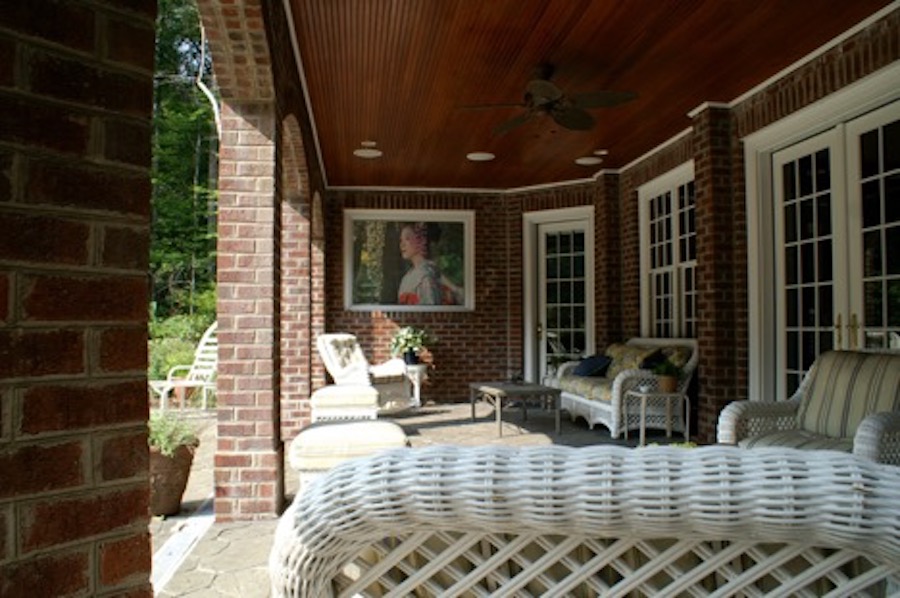 See the Possibilities of an Outdoor Home Theater
With the warmer weather in sight, many Virginia residents will be enjoying the sun from the comfort of the pool or even a patio with fans to keep cool. As such, an outdoor home theater is a great way to stay entertained — for both yourself and your guests — while enjoying the weather.
In this blog, we will look at what's possible with an outdoor home theater and what technology you should consider to get the most out of your setup. To get the ultimate movie experience in your space you just have to answer the following questions:
See Also: Create a Customized Outdoor Media Room
Do You Go With a TV or Screen?
Enjoying your media outdoors is a different experience than watching indoors. Because your environment is different, you'll need a screen that is suited for that environment. Whether go you with a TV or screen, you need to find a screen with anti-glare technology. You'll be able to enjoy a movie or sports game without being affected by the glare from the sun.
If you're using a TV there are one's specifically designed for outdoor use. They include special technology to withstand the elements and are extra bright to make up for ambient lighting.
If you are using a screen and projector combination, you want to pair up an ultra-bright projector with an ALR screen. These ambient light rejecting screens are designed to only absorb light coming directly from your projector.
What Type of Speakers Should You Use?
Your outdoor home theater should include as much weather-resistant technology — or at least products designed specifically for outdoor usage — as possible. For example, many of our trusted brand partners design outdoor speakers with exactly that in mind. The kind you use will likely depend on your speaker location.
One option is landscape speakers. These are designed to withstand the elements, sit within and throughout your landscape, and deliver high-quality audio. These make for a good outdoor home theater solution for homeowners who are looking to watch movies and shows beyond their patio — say, form their pool or even just in an area farther out on the property with a screen setup.
Another audio option for your outdoor home theater is an installation of hidden or mounted speakers. If you're looking to entertain and watch movies on your patio or in a covered area, hidden speakers can be placed in-wall or in-ceiling to sit flush with the surrounding material as not to be seen. This provides high-quality surround-sound audio out of view so that the focus is on the visual media coming from the screen.
What Can You Watch in Your Theater?
The last step is figuring out exactly what you'd like to enjoy during those long summer nights under the stars. We don't quite recommend taking your Roku stick, Blu-ray player or cable box outdoors. Does that mean your viewing options are limited?
These vulnerable components can stay safely indoors in a dedicated AV closet. We then use matrix switchers to relay the signals to your outdoor speakers and display. This way you can watch whatever you want without risking your high end equipment.
The final step is handing over the keys. You can control your home theater in whichever way makes the most sense for the entire family. We typically partner with Crestron which offers waterproof remotes, dedicated touchpads and mobile apps that make it easy for you to pull up your favorite movie, change the channel or adjust the volume.
Ready to transform your home with an outdoor home theater? Reach out to us online or give us a call at (804) 217-8970.