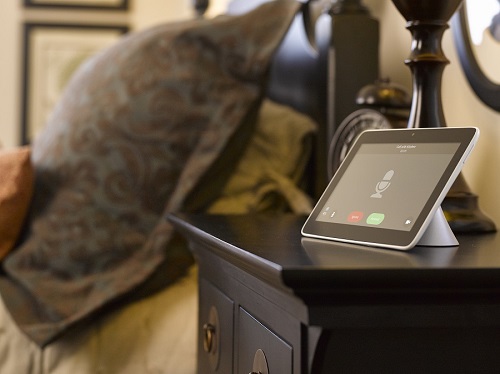 Smart Home Features Usher Virginia Families into the Future
What makes one smart home different from another? There are a number of top home automation brands out there, and we carry many of them. One of most highly-praised control systems is Control4. As a proud dealer of this manufacturer, we get to install many beneficial features in Virginia homes. Here are some of the newest ones that will certainly make you feel like you like in the house of the future.
SEE ALSO: The Top 3 Essentials of a Home Theater
Wearable Technology
The first time you saw someone talk into his or her watch to issue an important command, it was probably on Star Trek or in a James Bond film. But today this technology has been realized with the Apple Watch and various other models. According to Forbes, 245 million wearable devices are expected to ship in 2019. People want to wear their tech because it's portable, convenient, and just plain cool. Now you can even control your smart home with your Apple Watch using the Control4 app. Here are a few things you can do using the device on your wrist.
• Media: See what audio or video that is playing in each room in your house and change the volume, add additional rooms, or turn things off.

• Lighting: Control individual lights in any room of your house or activate lighting scenes that control many lights at the same time.

• Security: Check status of locks, unlock or lock doors, and open or close garage doors.

Tabletop Touch Screens
While you can always access your smart home system through an app on your smartphone, tablet, or watch, you can also take advantage of Control4's tabletop touch screens. They come in fun colors too, including fiery red, white gloss and black gloss. These portable devices can easily be moved from room to room and are usually placed on a table. Browse through your music collection and view beautiful new album cover art, view surveillance footage in stunning HD, and enjoy a collection of included wallpapers and screensavers you can display when you're not using the device. Why not use a tablet instead? These touchscreens are used specifically for controlling your smart home so other apps and internet browsing doesn't monopolize the device.
Safety and Security
Homeowners want to ensure their home and family are safe and secure. To this end, Control4 has completely reimagined the security experience, allowing users to arm or disarm their system, or get emergency help directly from their touch screens, TV or mobile devices. The bold, approachable and intuitive UI features large icons making it easy for everyone in the home to use. Here are the details:
All Zones on a Single Screen: You can manage sensors and other security features in one consolidated place, called the Security UI. This makes it easy for you to close a gate or a garage door with a single tap, all on one screen.
The History Agent: A "history agent" records security incidents throughout the home, creating a contextualized understanding of what is happening within the house. These history items can be used to create intelligent alerts and notifications so the owner knows when an issue arises. The history agent also provides a list view of all the security events in a home, making them easily searchable so you can see a more complete history of all activity.
We are a proud partner of Control4 and have installed many smart homes all over the Charlottesville, VA area. If you are interested in incorporating any of these features, like the smart watch integration, tabletop touchscreens, or new security features, contact us online.