Trust a Crestron Dealer to Take Care of Your Businesses Tech Needs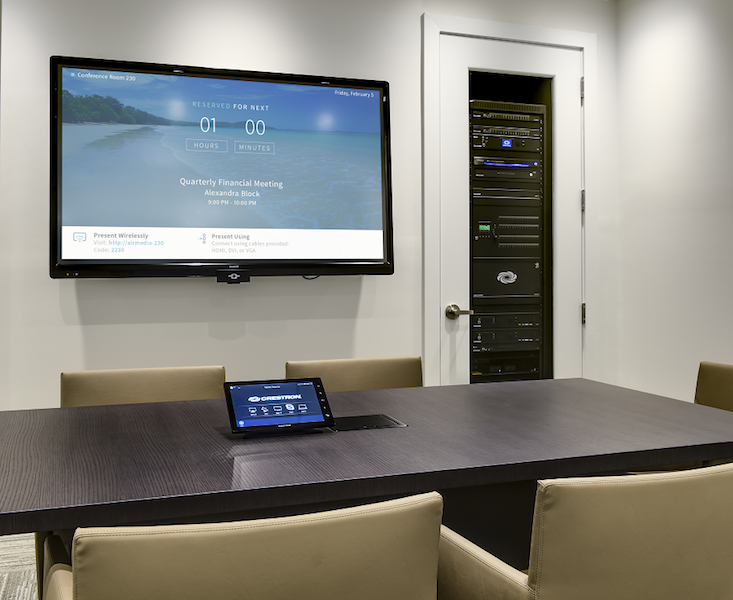 The boardroom in a corporate office is the main location for collaboration, business partnerships and presentations. It must be fully equipped with the right technology in order to support all of the activities the staff does throughout the year. You may think all it takes is a projector and screen, a phone, and a wireless mic for speaking engagements, but there is so much more you can benefit from. Boardroom automation helps make your meetings in the Richmond, VA area more effective and organized. How? Read this blog to find out how your local Crestron dealer is the ideal partner for your boardroom needs.
SEE ALSO: Tips for Picking and Placing Speakers
The Crestron Difference
Did you know that Crestron, our automation partner, manufactures all of their parts and systems? Since every component is made by their team, the system is more reliable. Other automation systems try to connect different brands, but sometimes the connections fail. That's why our partner creates its own proprietary technology. Your projector, speakers, phone, and shades will all work together perfectly all the time, every time.
Fully Integrated
What does it mean to integrate a room? Integration is the act of tying different subsystems together to work within one cohesive system. That means your boardroom only has one control that can master every feature of the room. Press one button and the motorized shades come down, the projector turns on, the screen rolls out, and the lights turn on too. With one touch you can set up an important presentation, start a conference call, or prepare for an interview. No two businesses are the same, so we tailor your office to your own unique needs. That's why we use Crestron; it's both reliable and flexible.
Wireless Collaboration
Crestron wireless solutions have been designed to help you save time and increase productivity. It allows multiple participants to view, control, and collaborate on a presentation using a laptop or mobile device. Further, multiple laptops can connect using our wired solution making it easy to switch between presenters.
With our video collaboration system, you can also communicate with your team in real time. Your organization can save time and money by using video chats in your boardroom. People can join instantly and you can start the meeting with one press of a button. For your convenience, Cisco, Microsoft and Polycom are built in so you can seamlessly connect already-existing technology into your workplace.
For more information about our boardroom automation systems, contact us online. We'll create a custom solution for you that will last for years to come.