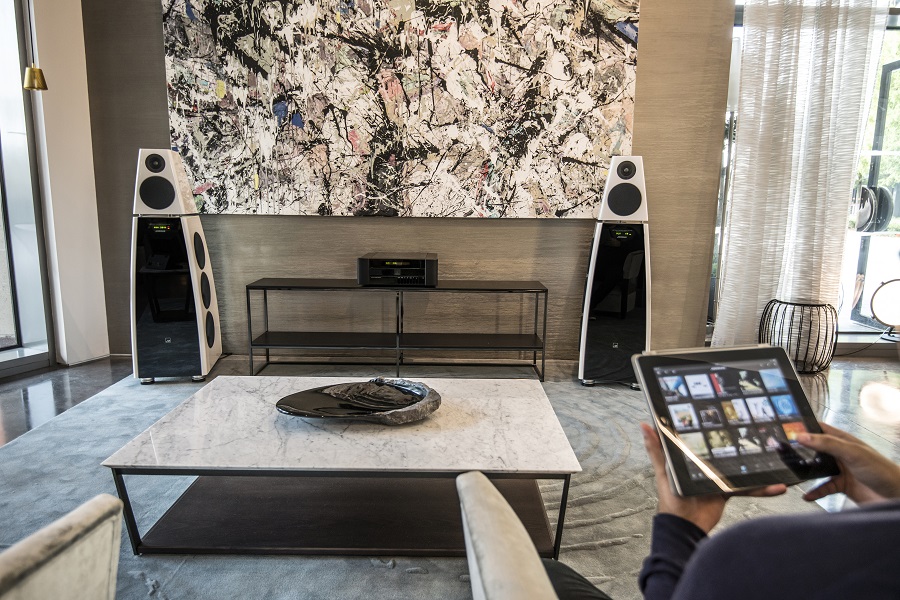 Stereo Types Has a Speaker for Every Application
There are many different types of speakers, but do you know which one goes where and what each one is used for specifically? While our team at Stereo Types in the Richmond, VA area takes care of the installation and detailed placement of all your speakers, it is good to know what each type is used for and what you can expect each to look like. You may even want a custom loudspeaker or something smaller and discreet for your bedroom. Read this blog to learn about the different types of speakers used for whole house audio.
SEE ALSO: The Top 5 Benefits of a Whole House Audio System

Floor-standing Loudspeakers
Floor-standing speakers stand upright and don't require any kind of installation. You can simply place them in a room, plug them in and play. They produce a wide-range of frequencies, including deep bass, and are an all-in-one type of solution. They can fill a large room with sound easily and also look nice since they come in a variety of colors and finishes. They are a good choice when you want to show off your speakers. Since they give excellent performance and are often custom-made with exclusive finishes, they tend to cost more than other types of speakers. This is your "show-stopper" in the audio world. Meridian is an award-winning speaker manufacturer that is well known for their floor-standing speakers.
Soundbars
Soundbars are great for adding volume in a media room or a bedroom setup where you have a hanging flat-screen TV and want to boost the sound. They can contribute to your whole house music system by connecting to the other speakers in your home to play music. So your soundbar doesn't have to only be used for movies and TV. You can play the radio or stream Spotify on it too. We work with Integra because they manufacture soundbars that are both powerful and versatile. You can stream music wirelessly and amp up the sound in your home theater as well.

Invisible Speakers
Invisible speakers live in your walls and are ideal for spreading sound throughout your entire house. Mainly you'll be using them for casual listening in the kitchen, bedrooms, bathrooms, and also for boosting sound in your home theater. Often 2 invisible speakers are installed in the ceiling of a dedicated theater to produce sound coming from above. It's key to note that when we say "invisible" that means the speakers could be completely invisible because they are deep in the wall and covered by drywall, or that the grill is still showing but just blends into the environment so you hardly see it. For example, we carry Invisa speakers from Golden Ear that are virtually invisible because they have flat, magnetically attached grilles that cover the audio components.
Subwoofers
A subwoofer is solely used to add bass to the soundtrack you are listening to. It's very common now to add a subwoofer to a pair of left and right 2-channel speakers – also referred to as a 2.1 sound system. In a home theater, a subwoofer is used to handle to low frequency effects. Another useful benefit of adding a subwoofer is adding power to the system as a whole. You'll experience a fuller and more clarified sound since the subwoofer is taking pressure off the satellites which produce the higher frequencies. In general, one subwoofer is often sufficient to produce the deep sounds you want to hear. So if you have a dedicated home theater or media room, one subwoofer position in front of the couch between the left and right speakers would be a perfect setup. Additionally a subwoofer would be a great addition to a 2-channel system in a listening room – great for audiophiles. What is the best subwoofer? We recommend the sub in Bowers & Wilkins DB series as it is one of the most powerful subs ever produced.
To add sound to your Richmond home, contact us online.