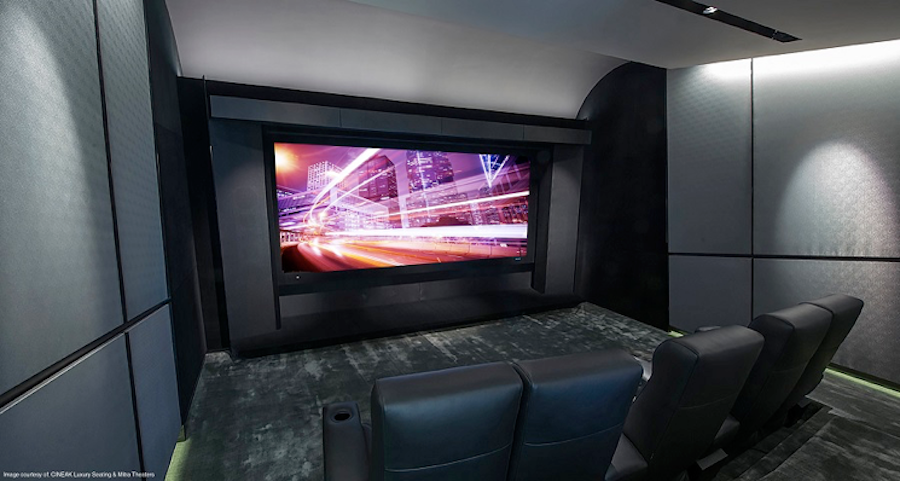 How to Get Your Room Ready for Movies, Sports, and More
In past blogs, we have talked about the importance of 4K picture, Dolby Atmos surround sound, and automated controls in a home theater system. This time around we want to share some tips with you on how get the most out of your movies in your Richmond, VA home. You may be surprised by our tips. Stay after the jump for all the details.
SEE ALSO: The Top 3 Essentials of a Home Theater
Add Motorized Shades to the Room
There are high-contrast screens available that still look beautiful in bright rooms. But the cinema standard is the darker your room is the better the picture will look. In a dark room, the colors on the images pop and can fully shine. To reduce glare in rooms with windows, we recommend installing motorized shades. Not only do you get to enjoy the convenience of controlling them with a remote or your phone, but you can also get access to windows that are out of reach. Install the shades once over a window in the ceiling or high up that you can't reach and you will never worry about closing the shades again. With a wired solution, you won't even have to change out the batteries. The batteries in a wireless solution will have to be replaced every few years, but they are very easy to manage.
Acoustic Treatments
Acoustic treatments normally have two main purposes. They fine-tune the sound and keep it in the room to avoid disturbing neighbors. Acoustic panels and even carpet and couches will help reduce the reverberation in your home theater. The sound will be crystal clear and you'll never hear an echo or unwanted vibrations. Even motorized draperies help cushion the sound so it doesn't bounce off windows. Secondly, sound proofing help prevent the music from leaking out and annoying everyone else around you. Let's say you have a newborn in the house and want to catch up on the latest football game in your home theater. Sound-proof doors, insulation and other methods will keep the sound from leaving your space. You can turn up the volume and not even worry about waking up everyone else in the house.
Interior Design
This last piece of the puzzle has more to do with your personal comfort than the way the picture looks and how the audio sounds. Watching a movie isn't as fun or enjoyable when the room is a mess. Loose cords, hanging wires, and big pieces of bulky equipment are distractions. To keep the focus on the main event, hide the audio/video components that you don't need to see. Stereo Types has custom AV furniture to house all of your equipment and can also install speakers in the walls to save space. Need couches or recliners? We also have partnerships with specialty companies that design and manufacture the same seating installed in commercial theaters. Imagine reclining on a leather sofa or lounging on a soft couch with your family. When your home theater feels as good as it sounds and looks then you know it's finally ready for an evening of cinematic bliss.
Contact us to tailor your room with any of these three services: acoustic treatments, audio/video furniture, or motorized shades.