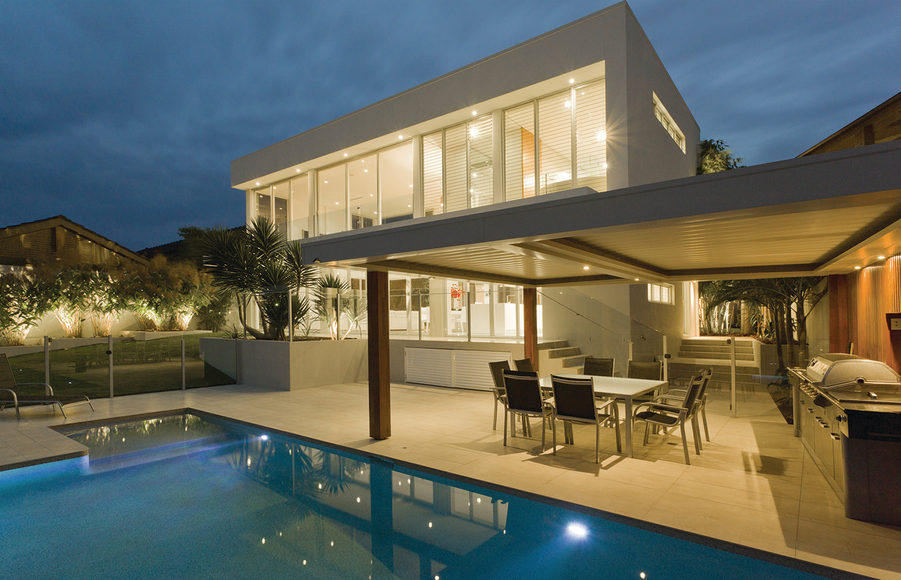 One-Touch Lighting Scenes Add Convenience, Safety, and Efficiency
Smart home lighting systems are often considered first for their energy-saving potential. While the energy efficiency (and money-saving) benefits of smart lighting are undeniable, there's much more that lighting control can bring to your Fort Lauderdale home.
One of the most powerful features of home lighting systems is the ability to create customized scenes. As you might suspect, a scene is a way to preset a range of lights to a specific level with one touch. Once you have this, you might never want to go back to multiple light switches! Read on below to learn about five ways to use lighting scenes for aesthetics, efficiency, and safety in your Florida home.
SEE ALSO: Four Reasons Why a Lighting Control System is a Smart Investment
What is a Lighting Scene?
Smart home lighting can replace many dimmers and switches with sleek multifunctional, programmable keypads on your walls. Most people tend to turn on lights to only a few settings for specific activities. For example, in your kitchen, you might have a brightly lit scene for cooking but a dimmer, warmer one for evening dinner. You can program the precise lights and levels you want to turn on these scenes with one button, or even a voice command or when you enter the room. Your imagination is the only limit in how you use them.
Using Lighting Scenes
Lighting scenes are incredibly useful and not just for convenience. Use them for energy savings, security, entertaining, and more. Here are some ways you can use your automated lighting system:
Movie Night: When you're set to relax with a movie in your family or media room, one button can dim the lights to your preferences. It can also leave navigation lights on to the kitchen and bathrooms, so you maintain the ambiance but also have functional illumination. With smart home automation, this scene could also combine starting up your AV system, drawing your motorized window treatments, and setting the ideal temperature for your evening.
Outside Lights: Manage your outdoor lights intelligently for efficiency and safety. Your lights can automatically turn on at sunset and off at sunrise or any other schedule of your choosing. Your home lighting control can pick up the right times in every season through astronomical clocks or the internet, so you can set and forget it. Aside from energy savings, you'll never return home to a dark house.
Holiday Lights: With Halloween, Thanksgiving, and the end of the year holidays closer than you think, you'll have many opportunities to decorate with holiday lighting. Turn them on automatically after dark and off when you choose, at midnight or in the morning. With smart plugs and lighting control, you can set the perfect combination of your normal outside and landscape lights with your holiday features.
Bump in the Night: If you hear an unexpected sound at night, you can set a scene to turn all lights on the outside and inside your home. If you have a potential intruder, you can startle them while you call for help if necessary. What's more, use this with a home automation system, and you can turn on a warning through a smart speaker or your AV system for an even more strident response.
Emergency: If a smoke or carbon monoxide alarm goes off, your lighting system can help. An automation scene can light your hallways and entries for a quick exit from the house. Then, when the authorities are called, your outside lights can blink on and off so that responders can easily identify your home in the dark when time is of the essence.
Want to learn more about what you can do with smart home lighting systems? StereoTypesserves the East Coast from New York to Florida with a wide array of home technology solutions. Call us today at (888) 297-9488, reach out via our contact page, or talk to one of our experts using the chatbox on this page. We look forward to working with you.