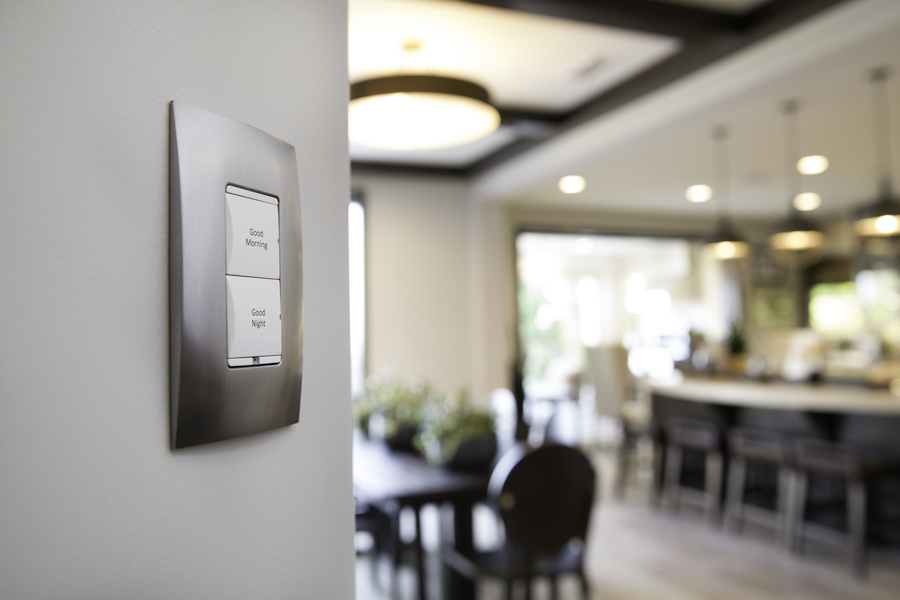 Lighting Control Offers Much More than Convenience
Lighting control is one of the most sought-after smart home features. For many people, it's about convenient methods of controlling lights beyond the switch. For others, energy savings may be top of mind. Either of those reasons alone could justify a lighting control system for your Naples, FL property.
The good news is that an investment in lighting control does not have to involve the reconstruction of your home. Various solutions require some wiring and cabling at a central point but use wireless keypads for control with the flexibility to be mounted away from electrical load wires. You can also add lighting control a piece at a time, automating a room or area or outside lighting and expand capability over time. But we would highly recommend adding lighting control throughout your home, as you could then fully leverage the following benefits.
SEE ALSO: 3 Smart Reasons to Upgrade Your Lighting Control System
Energy Savings
Lighting can be a significant energy consumer, and turning off unused lights is beneficial for the environment and your wallet. Lighting control can put your lights on intelligent schedules, like turning landscape lighting on at dusk and off at sunset. You can use room sensors to turn lights off for further savings when there's no activity in a room for a given time. Precise dimming control lets you use just the amount of light you need for an activity, and you can set a whole array of lights to specific settings with just one button push. This ability to create lighting scenes can optimize your lighting for every activity at home while saving energy at the same time.
The Florida sun is hot almost all year round. Manage it by integrating lighting control with a smart home automation system that also controls your HVAC and motorized shades. Coordinating lighting, shading, and HVAC can increase interior comfort, reduce heat buildup, and save money on energy by harnessing natural light at the right times and reducing the load on HVAC systems.
Safety
Lighting adds safety to your home in various ways. Light up dark entries, driveways, and paths at night for increased safety for your family and visitors, but intelligently turn them off at desired times for efficiency. When you leave on vacation – or if your Naples property is a second home – lighting control can be programmed to turn lights on and off in sequences that give the appearance that your home is occupied. Going further with smart home integration, your lighting can coordinate with security cameras and alarms to turn on lights and startle potential intruders.
Convenience
While convenience isn't the only reason for lighting control, it's an undeniable benefit. If you or your family always forget to turn lights off, sensors and schedules can do that for you. If you need to check on a pet at home, outside or inside, you can turn specific lights on remotely to ensure they're not in the dark. Hear an unusual noise around the back patio? One button on a smartphone app or customized keypad can turn on the lights outside.
Luxury
Convenience can graduate to luxury with lighting control. Customizable, backlit, programmable keypads add style and luxury with one-touch control of lighting, shading, and even music for a room. Use scenes to set your lights for different activities and times of day, like a "goodnight" program that turns on outdoor lighting, turns off living area lights, draws curtains and shades, and sets dimmed night lighting for the kitchen and bathrooms. Want to know more about what you can do with lighting control systems? StereoTypes serves the East Coast from New York to Florida with a broad range of home technology solutions. Call us today at (888) 217-9488, reach out via our contact page, or connect quickly with one of our experts using the chatbox on this page. We look forward to working with you.