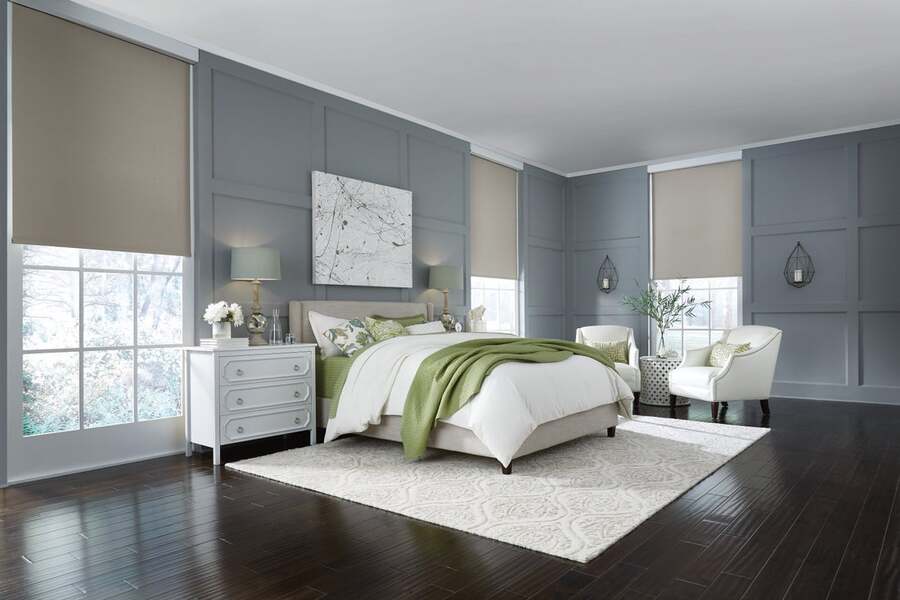 Enjoy Wellness and Peacefulness at Home!
Finding moments of peace and relaxation is essential for our health and well-being. For this reason, homeowners should strive to turn their home into a peaceful sanctuary, a place where they can unwind and rejuvenate. One often overlooked aspect of creating a serene environment is controlling natural light and privacy. Luckily, at StereoTypes, we have the perfect home solution to achieve this.
Motorized shades provide convenience and style while offering numerous benefits for promoting wellness and relaxation. In this blog post, we will explore how cutting-edge shading solutions can transform your living spaces in Charlottesville, VA, or anywhere else on the East Coast, from New York to Florida. Let's dive in!
SEE ALSO: What Can Smart Shades Do for Your Home?
Light Control for Relaxation
Lighting plays a crucial role in setting the mood and ambiance of a space. With motorized shades, you have complete control over the amount of natural light that comes into your home. Early in the morning, for example, your shades can wake you up to soft, filtered sunlight gently peeking through, gradually easing you into the day. Throughout the rest of the day, you can adjust your shades and create an environment that adapts to your changing moods and activities, promoting a sense of tranquility.
Glare Reduction and Eye Comfort
Harsh glares from sunlight can cause eye strain and discomfort, hindering our ability to relax and unwind. Motorized shades offer the perfect solution by providing precise sunlight control, as they allow you to reduce glare on television or computer screens to make your viewing experience more enjoyable. By minimizing eye strain, you can enjoy your time entertaining at home by fully immersing yourself in your favorite movies, series, and more without any discomfort.
Privacy and Personal Retreats
Privacy is a fundamental aspect of creating a serene environment. Motorized shades give you the power to create personal retreats within your home, shielded from prying eyes. With a touch of a button, you can effortlessly lower the shades in any area of your home. Whether you want to retreat to your bedroom for a restful night's sleep or create a cozy corner for meditation and self-reflection, motorized shades provide the privacy you need to create your personal oasis.
Integration with Wellness Routines
Another great perk of motorized shades is that they can be seamlessly integrated into your home automation system, allowing you to create wellness routines that transform your entire home. For example, you can create a "yoga scene" that automatically adjusts your shades to create the perfect lighting conditions, sets your HVAC system to a comfortable temperature, and plays a relaxing playlist in your multi-room audio system. Simply press a button on your smart device or give a voice command, and watch your home provide the atmosphere of peace and balance you were looking for!
At StereoTypes, we love helping you create more comfortable and inviting living spaces. Contact us right here or give us a call at (888) 217-9488 to discover how our unique technologies can elevate your home!