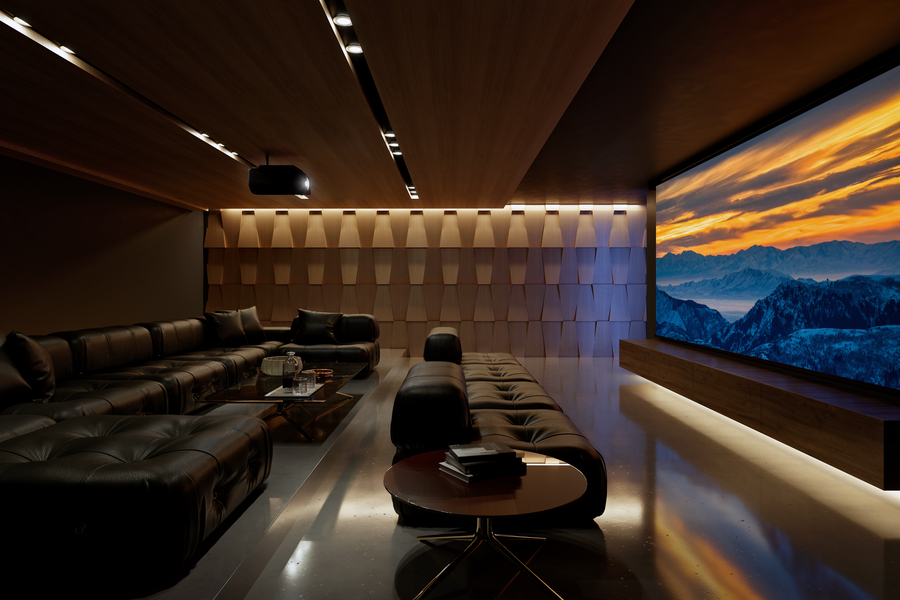 Explore the Many Details in Today's Home Theater Design
Building a home theater can be one of the most thrilling endeavors that borders on overwhelming. It's a space that, if correctly designed, engineered, programmed, and installed, will transform your property and your experiences there forever. Every detail must be precisely considered and integrated, from the seating arrangement to the acoustic calibration, speaker placement, and installation of the movie screen. The result is a breathtaking immersive cinematic experience that unfolds before you.
As home theater installation experts serving Charlottesville, VA, and the East Coast for over 45 years, our team at StereoTypes has had the pleasure of transforming our clients' home entertainment experience. These theaters surpass the quality found in commercial cinemas because of our extreme attention to detail and our partnerships with the top AV brands.
Let's explore a few of the many facets that go into a professional home theater design.
SEE ALSO: Top Things You Should Consider with Whole-House Audio Systems
Brand Partnerships
At StereoTypes, we've developed long-term partnerships with industry leaders in the home entertainment field. From the latest high-performance projectors to high-fidelity speakers, Dolby Atmos-enabled audio-visual receivers, specialized lighting, and custom seating, we'll ensure the best technology for your space. Together, we'll explore your ideal aesthetics, room layout, and budget.
Thanks to today's advanced technology, you can enjoy the crystal-clear, detailed audio that engulfs you. Planes fly overhead, lightning crashes around you, and soft whispers behind you make you turn your head. Home theater projectors deliver stunning images in breathtaking, natural colors, transporting you into the places and scenes on the screen. We believe the ability to genuinely immerse yourself in the experience lies at the heart of great home theaters.
Custom Design
Achieving the immersive cinematic experience requires a custom design that starts with the seating. To a large degree, it determines the placement and characteristics of nearly every other device, from the size of the screen to the speakers, lighting fixtures, acoustic paneling, and more. Our expert design team considers each of these features to ensure a genuinely magical movie-watching experience.
Some clients envision tiered movie seating with custom-designed recliners. Others prefer relaxed sectionals or chaise lounges. There exist nearly endless options in today's luxury home theater seating.
And because we've designed every type of home cinema—from luxurious, opulent affairs to the latest media rooms with hidden technology—we can ensure the design and integrated technology that aligns with your vision. We'll get to know your preferences and lifestyle, creating a space that exceeds your expectations.
The Ultimate Experience
Gone are the multiple remote controls for every electronic device. Today, we can integrate lighting, shades, AV equipment, and more, allowing for effortless control of your technology. One tap on a touchscreen, and the shades lower, the lights dim, the image appears on the screen, and the audio surrounds you.
Are you ready to experience the ultimate home entertainment? To learn more about the many possibilities in home theater installations or to schedule a complimentary consultation, contact StereoTypes today.