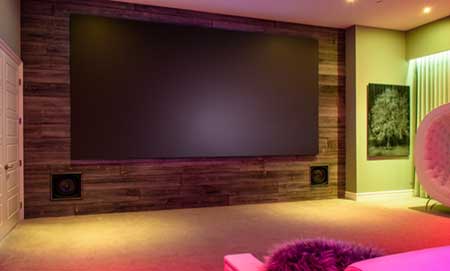 Hire experts to upgrade your home entertainment space
Home entertainment spaces are the ultimate audio/video additions you can add to your property. Besides watching movies and shows, you can also use these spaces as gaming zones, sports centers, exercise spaces, or a listening room.
Who wouldn't want to benefit from a multi-functional entertainment space in their Charlottesville, VA, home that's fit for the entire family to enjoy? To achieve the maximum quality and AV performance possible, you must work with a professional home theater designer like StereoTypes.
A professional team can devise a strategic plan to check all of your entertainment boxes, incorporating all of your home cinema, seating, listening, and other requirements. Read on to discover how a professional home theater or media room installation can make your home more fun.
SEE ALSO: Why You Should Trust a Professional for Media Room Installation
The Best Picture
No matter the size and shape of your space, a professional home theater designer can assess the area and customize it with the best-suited equipment, design, and installation.
Depending on the size of the room, bigger may not always mean better! The projection screen or smart TV's dimensions will be customized for the best viewing experience, so no viewer will be left craning their neck up, down, or side-to-side to see the entire scene up on the screen!
Regardless of screen size, the quality of the picture is what matters the most for a truly cinematic feel. And no matter your favorite genre, UHD 4K visuals provide vibrant colors, deep contrast, and a life-like experience that truly immerses you into the storyline of whatever you're watching. It will feel like you're on the 50-yard line or in the middle of a riveting car chase scene!
A Truly Immersive Sound System
Beyond the realistic images on the screen at the front of the room, the sound system boosts entertainment experiences as nothing else can! The expert team of AV professionals at StereoTypes evaluates your entire space to find the best locations for speakers and components like receivers, amplifiers, wiring, and acoustic treatment. With a high-performance audio system, switching between movies to sports to exercise videos to video games is a cinch. Simply tap a button to adjust the source without fumbling through a stack of remotes or multiple smartphone apps.
Set the Scene with Lighting
Lighting control is another consideration for your home entertainment space. A home theater designer will incorporate all necessary low-voltage wiring and program on-wall keypads and remotes to operate in synchronicity with your media system. That means pressing the Play button will not only fire up the projector and roll down the projection screen, but it will also dim the room's lighting to the perfect setting for an immersive viewing experience similar to the local cineplex, but without the sticky floors and high concession stand prices. Lighting control gives you the power to switch the lights on and off, dim, and brighten with a single press of a button.

A home theater designer can make all the difference in your entertainment experiences, whether you decide on a home theater or multipurpose media room setup! We serve clients all along the East Coast, from New York to Florida. Call us at (888) 217-9488 to get started on your home entertainment project, or fill out this easy contact form to begin discussing your project ideas.