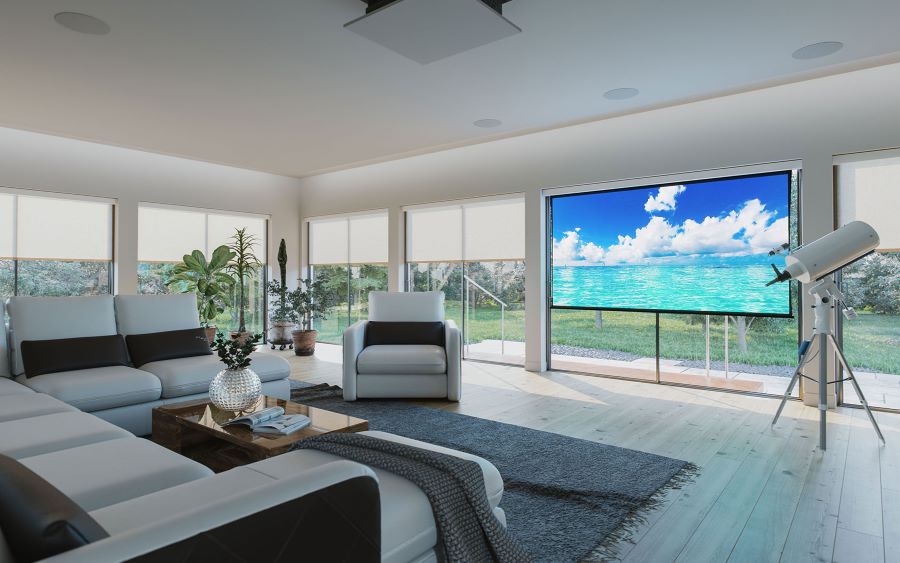 Explore the Customized Approach of a Home Media Room Installer
A media room is part home theater, part entertainment mecca. It's a space where family and friends come together to enjoy the latest blockbuster, Sunday's game, or duel it out in Overwatch 2. It can also be a yoga retreat in the morning and a space to relax while immersed in high-fidelity music in the evening.
In essence, it's your home's ultimate entertainment space, and it reaches this level of enjoyment through premier customization. As a home media room installer serving Charlottesville, VA, as well as the East Coast from New York to Florida, for over 45 years, we've created every kind of media room possible, from those that provide the ultimate in relaxation to others designed for extreme fun.
Let's explore some of their unique features and how we can transform any room or area of your home (even your outdoor areas) into a media room that leaves you amazed.
SEE ALSO: Experience a Cinematic Feel by Working with a Home Theater Designer
Audio-Video Systems Redefined
At the heart of your media room is today's high-performance audio video. At StereoTypes, our passionate team of audio-video experts considers every angle and the best brands for your particular property and needs. The outcome is an incredibly immersive experience, with brilliant lifelike images displayed on a 4K HDR TV or handcrafted movie screen.
Today's surround sound technology enables us to create an engulfing 3D sound field that takes you from your media room into the watery depths of the Pandoran oceans or the gritty yet beautiful boardwalk of Venice Beach. The detailed sound comes from around and above you, and the subwoofers deliver the deep bass important to special effects and soundtracks.
For rooms that double as spaces for relaxation and guest entertainment zones, we create AV systems that disappear when not in use. These include in-ceiling and in-wall speakers, TVs that hide behind paintings or custom paneling, and screens and projectors that disappear into ceilings or media cabinets.
Customized Design
Each of our media rooms is one-of-a-kind, designed with you and your family's dreams in mind. For some, that translates to an oversized sectional, game chairs, and a pool table and bar in the back. For others, it looks like a luxurious retreat with plush seating, soft pillows, strategic acoustic paneling, a chandelier, and wall sconces.
From Confusion to Fun
There was a time when we had a different remote for every piece of AV equipment. Fortunately, those days are gone. Home automation enables us to integrate all your devices, letting you control your room with one touch. Tap an icon on a touchscreen to create the perfect setting, managing the audio-visual systems, lighting, motorized shades, and climate.
Set the ideal scene for movie nights, relaxation, game day, and entertaining. Whether enjoying drinks and music with friends, a family movie night, or a big sporting event, one tap cues your AV to appear, the lights to adjust, and the shades to rise or lower.
Are you ready to explore the nearly limitless possibilities in a home media room installation? To learn about the many options or to schedule a complimentary consultation, contact StereoTypes today.