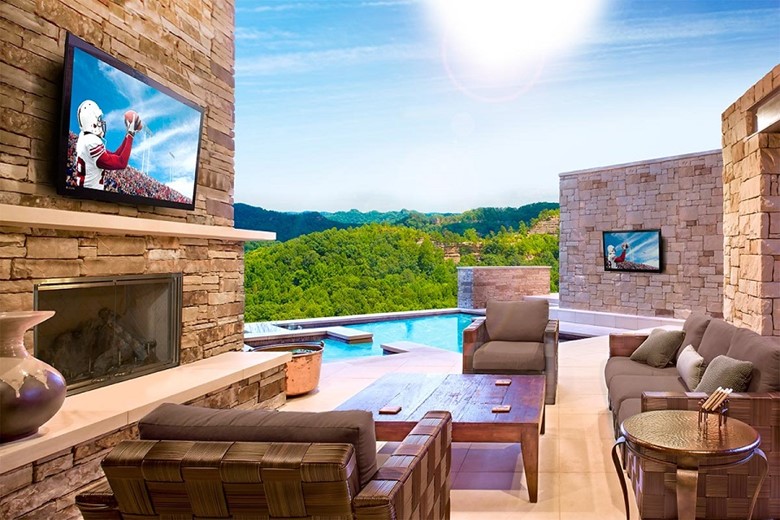 Make The Moments Matter More by Enjoying Them Outdoors  with Superb Audio and Video
One of the pleasures of homeownership is the ability to entertain family and friends on your property. Whether you are grilling, watching the game on the deck, or relaxing by the pool with music, an outdoor AV system makes more of the moments.
Your property can be transformed into the ultimate media space easily integrated into your smart home system. Enjoy movies in the open-air day or night, revel in your favorite music by the gazebo, or feel like you are at the stadium while watching the big game.
We can provide you with the best audio and video that meets your high expectations and fits your lifestyle. SteroTypes provides expert AV design and installation in Charlottesville and throughout the east coast. Are you ready to take your favorite music and movies, Al Fresco? Read more below to learn how.
See Also: Hit The Water This Summer With An Upgraded Boat Sound System
Video Under The Sun Or Stars
When watching television outside, you need a monitor built to work despite the weather conditions and the challenge of producing an image without boundaries. When a TV is indoors, you can remedy excessive light, washing out the image with automated shades; it takes a bit more outdoors.
SunBriteTV, founded in 2004, bills itself as 'True Outdoor Television with a mission to deliver safe, worry-free entertainment experiences regardless of your environment. The company offers monitors in sizes ranging from 32" that fit just right in your bar area up to 75" units that rival your home theater. No matter your need, there is a TV that suits you.
As when you are indoors, a little sun can cause havoc with your video image. SunBriteTV solves this with units that generate stunning ultra-high-definition 4K HDR video with a brightness that is up to six times greater than standard TVs. Installed in full sun, full shade, or partial sun, the company has a model to accommodate any space.
Let The Music Move You
Audio, like lighting, adds ambiance, life to a party or helps to soothe and center you. You have high expectations from your whole-home audio system. There is no reason to have lesser quality outside.
Sonance is a pioneer in the development of high-performance landscape audio, engineers systems that provide superior audio in any outdoor space. Music outside must fill the yard with crisp and clear music that inspires and moves you without resorting to excessive volume. The speakers deliver perfectly even coverage with translucent highs, punchy midrange, and smooth bass you can feel as well as hear.
Music should be heard, not seen. The Sonance speakers are designed to blend into the landscaping. Visibly matching the lines of nature and constructed of dark brown composite materials that will not flake or corrode, these units are easily camouflaged. Enjoy the moments without distracting from your aesthetics.
Bring Your Backyard to Life
There is no better time than now to upgrade your property with the finest outdoor entertainment system. Are you intrigued by the possibilities? Call us at (434) 973-8820 or fill out our Contact Form to schedule a no-obligation consultation. We look forward to working with you!